Does this sound familiar to you?
In my work as a hobby painter and later as a visual artist, I have had an eternal recurring problem! How do I store my paintings in the most convenient way?
They were everywhere! In the living room, in my studio, under the bed and up against the walls … paintings everywhere! I have had to move them around so many times, because, obviously, the artwork I needed to get, has almost always been the one in the back. I've experienced backpain from lifting, very often due to awkward angles, and when I had to vacuum… arrgh … first they had to be moved one by one to another wall, then I'd vacuum, after which I had to move them all back again… SIGH!zDon't forget about the big paintings, the ones that are the most unmanageable – they are both heavy and take up a lot of space, especially height wise. It's hard to find a cupboard that's tall enough for them all to fit in, so theyare the ones that have always ended up against the walls.
I've been working to find a solution!… a mobile artwork storage solution.
I have been searching all over the web, only to realize that there is nothing useful, when it comes to this matter, in the entire world… Unbelievable! I found one single product and bought it immediately, however, it seemed to only meet a few of my needs. It is also worth mentioning that it rusted and damaged and scratched my paintings as the spaces were too narrow. At this point, I was back to square one.
Well, I'm a woman of action. I see challenges where others see problems and I seek solutions. I decided to make my own, because I knew that there must be a lot of other visual artists around the world who have been struggling with the same issues as I had. I, as well as they, had been experiencing the same frustration again and again. No more.
I contacted my old classmate, Claus, who, together with one of his timber friends, designed and  made a prototype which I am extremely happy to present to you all.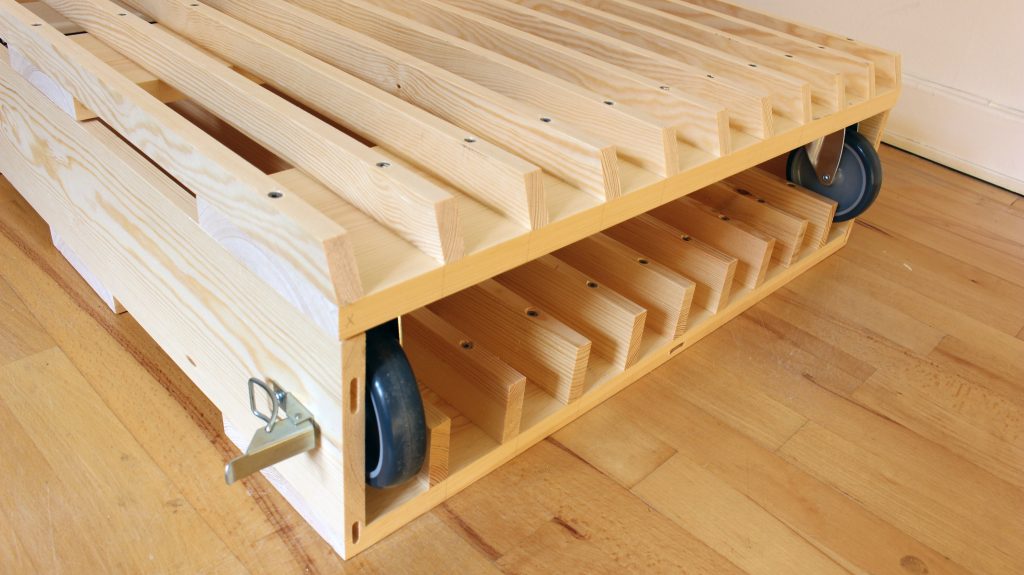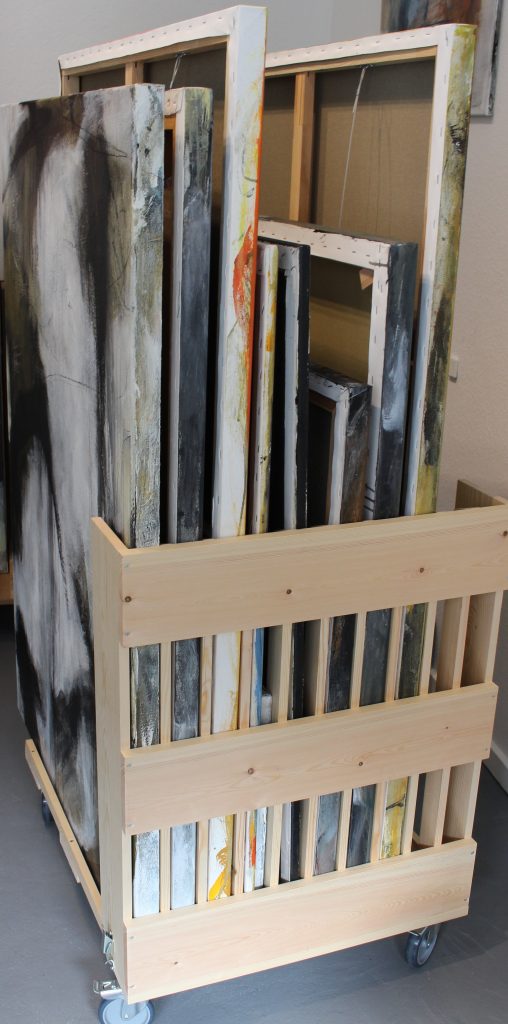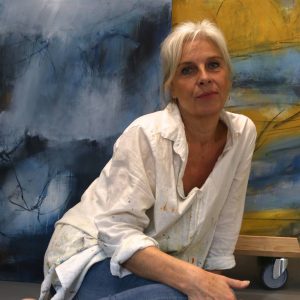 Mobile Art Wagon
It's handmade, looks great and on top of that it's very functional. I can hardly contain myself with excitement! It can roll across carpets, easily navigate through regular doors and be taken apart in two pieces. One of the two parts can be placed inside the other and easily fit in a car. It is really handy when you attend fairs or exhibitions.
Fairs and exhibitions
We all know that it is an expensive affair to exhibit at the major art shows, well, this wagon makes it possible to bring 10 additional paintings up to 4.5 cm in depth and 20 paintings when carrying plain, thinner canvases… WOW! Think about how much you can save with this!
You no longer need to buy additional wall space for your booth, instead, you get to bring a larger amount of paintings to events while easily and quickly being able to remove them from the wagon and show them to the visitors. This is an advanced artwork display, where your paintings don't have to be damaged from leaning up against each other along the wall.
Measurements in cm:
Height: 93,5
Width: 66 
3.2Length: 82
Measurements in cm, when folded:
Height: 22
Width: 66 
Length: 82
Costs
It is handmade from Danish pine wood with a beautiful, functional and simple design and it can be yours for only:
Price excl. delivery
and Danish VAT:
DKK 3.200
I HAVE ONLY 3  WAGONS LEFT! BECAUSE THEY HAVE BEEN STANDING IN MY SHOWROOM,  THE PRICE IS REDUCED! 
PLEASE CONTACT ME AT INFO@ANITTAJONAS.COM IF YOU ARE INTERESTED!
FIRST COME, FIRST SERVED!
Order your mobile Art Wagon today at info@anittajonas.com and title the email "Order"
If you would like further information, call +45 6066 1242 or send an email to the email address above.